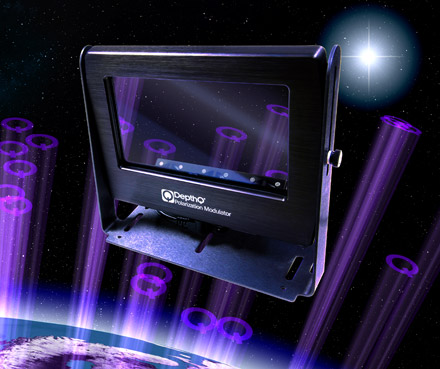 Newly patented technology* makes DepthQ Standard the world's fastest polarization switch for 3D digital cinema. With a powered, symmetrical 50 microsecond switching time between the eyes, DepthQ requires the world's smallest dark times - thus easily ensuring bright, low-crosstalk operation - even at the upcoming 3D HFR (high frame rate) targets of 192 FPS, 240 FPS...and beyond.
When combined with a silver screen, DepthQ Standard allows your digital cinema projector to display stunning stereoscopic 3D films, viewable using inexpensive industry-standard passive glasses. Advanced heat protection supports both lamp and laser illumination up to 56,000 lumens for a spectacular experience on large 3D screens, e.g. 19.2m (63ft) screens using a 6KW 30K lumen lamp, and even larger with laser illumination.
DepthQ meets Hollywood's demanding image quality standards by precisely and efficiently varying the polarity of light passing through it, in perfect synch with the double or triple-flash of left and right eye images from digital cinema projectors.
The DepthQ Standard Polarization Modulator has been successfully reviewed by executives from six major Hollywood studios and is listed on the Walt Disney Studios Motion Pictures Approved Equipment List.
DepthQ Standard for 3D Digital Cinema
Bright
World's Smallest Dark Time
Advanced Heat Protection
Patented in the US, Korea and China (Pending in Europe, Japan)
Hollywood Approved by Six Major Studios
Made in the US and Sweden
Highest Quality Parts & Manufacturing
3D Cinema Five Year Optical Warranty -
Three Year Electronics/Mechanical Warranty
Future-Proof
Over 3,000 Installations Worldwide
TECHNICAL DESCRIPTION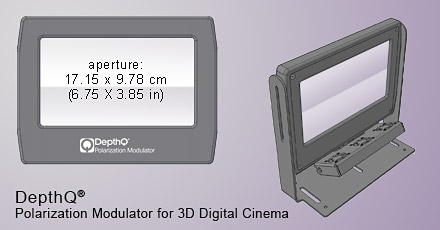 *LC-Tec Displays AB U.S. Patent No. 8023052 B1
The DepthQ Standard Polarization Modulator utilizes a unique control methodology and combination of separate liquid crystal elements bonded together, enabling both high polarization efficiency over visible wavelengths from 400 to 750 nm (predominantly achromatic spectral response) as well as fast transition switching speeds between polarization states (50 microseconds) at frame rates from 96 to 400FPS (frames per second).
This 50µs switching time actually occurs faster than the smallest dark interval setting currently available in digital cinema projectors...so when they 'catch up', even brighter 3D images will result!
By actively alternating between two orthogonal polarization orientations in sync with the progressive left/right double or triple-flash of stereoscopic cinema projections, matching polarized eyewear can passively block or transmit light to the viewer's eyes. Efficient, powered, symmetrical high-speed switching between the eyes ensures bright, low-crosstalk, flicker-free operation.
The system includes both the liquid-crystal modulator as well as its control unit, plus three types of mounting hardware (Wall, Table, or Rack mount), and a show-controllable actuator to quickly (4 seconds) and automatically move the modulator in and out of the projection path (for switching between 2D and 3D). Sync output from your projector's GPIO port is supplied to the control unit, which then conditions the signal to match the modulator's required input.
The optical window is also heat-protective, employing both air cooling and a nano-scale metal-on-glass polarizer to reflect thermal energy and ensure longevity. With no lamp/Lumen limitations, the DepthQ® Standard Polarization Modulator thus supports all current and future digital cinema projectors.
The DepthQ Standard Polarization Modulator for 3D digital cinema has been successfully reviewed by executives from six major Hollywood studios and is listed on the Walt Disney Studios Motion Pictures Approved Equipment List. It is available in circular polarization only. However, we do offer a non-DCI version of the modulator for advanced 3D visualization, and that is available in linear or circular.
DEPTHQ STANDARD POLARIZATION MODULATOR ADVANTAGES
Viewer Comfort
Passive glasses are very lightweight
Single-projector solution eliminates possibility of geometric asymmetry between eyes
No vertical or horizontal parallax problems
No bulb differences (intensity and color temperature over time)
Ease of set-up
Modulator placement is simple and forgiving
No time-consuming alignment of superimposed images required
Lower Cost/Maintenance
No moving parts, spinning wheel, or need to replace polarizers
Less hardware than two projector solutions
No high-power Infra-Red emitter necessary
Passive eyewear is inexpensive
Passive eyewear does not require batteries/recharging
Options for Viewing
Passive glasses are available in a variety of form factors -
from paper to plastic to wire-frame
Versatility
Enables a wide range of applications - from theme parks & commercial 3D theaters to scientific & industrial visualization
Simple Pricing
Simple, single-cost business model
Back to top
The DepthQ Standard Polarization Modulator is co-developed by Lightspeed Design, Inc. and LC-Tec Displays AB. The two companies have over twenty-nine years of experience in their respective fields of stereoscopic design and liquid crystal manufacturing and development.
First introduced at Cinemacon in March of 2011 and then showcased at InfoComm'11, CineEurope, ShowEast and CineAsia, the DepthQ Standard Polarization Modulator has received an amazing response. Units are currently installed in the United States in Alaska, California, Florida, Michigan and Washington, as well as internationally in Australia, China, Dubai, Germany, India, Israel, the Philippines, Turkey, and the UK. Interest in the product continues to grow as orders flow in from around the world.
Lightspeed Design is the exclusive worldwide distributor of the DepthQ Standard Polarization Modulator.
Now shipping! To purchase or for more information please use our Contact Form, or call +1.206.784.1385